Best Water Flask for Children: The benefits of water in maintaining a healthy body is very vital. It in this regard that you will need to ensure that your child remains well hydrated at all times.  Getting the best water flask for your child plays a key role in motivating your child to drink water.
Ensure you get a bottle that will be of good quality and one that is durable. The importance of a water flask/ water bottle is to help your child drink sufficient water to maintain good health. The other major advantage of a flask is that it eradicates the problem of waste plastic bottles in the environment. Having a reusable water flask allows you to lower the pollution caused by disposable water bottles.


Currently, there are thousands of water bottles in the market. These bottles/flasks are either made of plastic, glass, aluminum or stainless steel. The best water flask for your child will depend on their taste and preference, age and weight. The place of usage will also be important to consider if you want your child to carry the water flask it has to have extra features like a handle and non-leakage lid.
Today we have reviewed some of the best water bottles for children. If you are speculating which is the best water bottle for your child, look at below notes to know what to look for.
Best Water Flask for Children 2022

CamelBak eddy Kids Bottle
Ensure your child has sufficient water all day long by getting CamelBak eddy Kids bottle. It is easy to put together and clean. It can be used by kids from 3 years old although parents of kids from 11 months sometimes use this bottle.
It will not leak and your child can carry it even when going for adventures. Unlike many other bottles, this camelback bottle has parts that can be washed in the dishwasher.
Pros
It is BPA and stain-free
Easy to clean
Comes in all sorts of colors
Has a detachable Bite Valve that is safe for kids
Its Flip cap is easy to open and your child will be able to operate it easily
Has a finger loop at the top which makes it easy for kids to carry
The Shielded vent averts unforeseen messes.
Cons
Not recommended for children below 3 years
If your child often bites the valve you will need to replace it
Cactaki Water Bottle with Time Marker
If you are looking for an affordable water bottle with a maker, you can get the Cactaki Bottle. It is a sleek looking bottle that will be appealing to your teenage daughter. The Time marks on the side will be a fun reminder of the amount of water drunk throughout the day. Its mouthpiece is well sized to allow you to have small or big gulps without messing you. This bottle is also outstanding because it has a fruit strainer to allow you to add your favorite fruit flavor to your water or beverage.
Compared to other bottles that give you a whistling sound each time you drink the last sip this will not give you the whistle since it has the air flow hole. To give you a user-friendly feature, it has the one-hand opening mechanism that allows you to open it with one hand. With this bottle, you can drink your water when on a trend mill, driving or cycling.
Pros
Has the time marker
BPA free
Has a wide mouth hence easy to clean
Has a juice strainer at the top
Has a carrying strap
The lid is non-leakage
Cons
The bottle 'sweats' with colder water.
Hydro Flask Wide Mouth Water Bottle
This hydro flask comes with a straw lid which does not leak at all. You can be assured that your child's hot or cold water will remain at the same temperature for up to 12 hours. Unlike many straws that are disfigured by hot water the straw will remain the same regardless of the water temperature.
Since this flask is made of stainless steel, the taste of your water will remain the same whether cold or hot.
Pros
It is made of stainless steel hence long-lasting
Can keep beverage with the same temperature for 24 hours (cold) and 12 hours (hot)
Free from BPA and phthalate
Has a coat made of proprietary powder hence easy-grip
The straw does not leak and it is not damaged by heat
Note:
Ensure you get the original brand
Simple Modern Ascent Water Bottle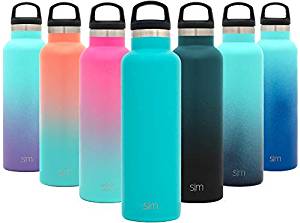 If your child is interested in having a water bottle, why not get them Simple Modern Ascent Water Bottle. It is fairy affordable and it will meet your child's expectations. The bottle has a double-walled exterior with a vacuum seal between the walls. This vacuum ensures means your water or beverage will stay at its ideal temperature for hours.
Pros
Maintains the temperature of your drink since it is vacuum Insulated
User friendly since it has a narrow mouth piece
The bottle is made from high-quality, food-grade 18/8 stainless steel and is coated in a durable finish
You can choose from numerous colors
Cons
The lid is small hence it makes it hard to clean the bottle.
HYDRO CELL Stainless Steel Water Bottle
Parents want their children to stay hydrated and at times it takes some effort to do so.  The best way to do so is to buy them HYDRO CELL Stainless Steel Water Bottle. It is one of the best water flasks for your child, as sleek and stylish bottle it will keep your child's drink cool or hot just as desired.
As a 5 star kind of bottle it is has a stainless steel double-walled insulation hence durable and will not leave any taste to your drink.
Pros
It is BPA free
Durable and can with stand all weather conditions
The bottle cover is non-slip, one that creates an air tight vacuum seal and the second is a bonus sport cap that has a straw
Made of stainless steel hence does not rust
Retains all the heat in hot drinks for up to 8 hours while cold drinks can remain cool for 24 hours
Free from BPA and all plastic by-products
BUZIO Stainless Steel Water Bottle
BUZIO Stainless Steel Water Bottle is a superb bottle that is easy to clean since it has a wide mouth that allows you to insert a brush while washing it.
Buzio bottles are made of 100% non-toxic BPA-free plastics; the durable food-grade 18/8 stainless steel is what gives the bottle longer lifetime. Has no leakage and you can put in your bag pack without having to worry about wetting other items
Pros
Easy to clean
Made of stainless steel
Ensure your hot drinks remains so for 12 hours and your ice cubes for some hours
Cons
Does not have nonslip sleeve
DuraFlask Explorer Double-Wall Vacuum Insulated Water Bottle
If you want your daughter or son to drink more water whether cold or warm, you could buy for them this excellent water bottle. It will keep all drinks warm or cold as preferred regardless of the environment.
Pros
Has three THERMAL PROTECTION layers hence your hot or cold drink remains the same for hours
It is Lightweight
Has a warranty against defect
Leaves no after taste in your drinks
Safe to use since it has no plastic by-products of BPA
It is affordable
User friendly since it does not leak or sweat.
Thermos Funtainer flask
Are you looking for a flask that is only meant for cold drinks? Thermos Funtainer is made by the best manufacturers who consider the need of every customer to ensure they develop some of the best water bottles for children and adults. As a flask meant for cold drinks, once you use it you can be assured that your child's beverage will remain cold and fresh for up to 12 hours. To ensure the drink remains cold for long you can pre-chill by filling the bottle with cold tap water and allowing it stay in for a few minutes and then pour the water before filling the flask with your desired drink.
Thermos Funtainer flask offers superb cold retention that will keep beverages cool and delicious for hours. This flask has Vacuum insulation technology that essentially reduces temperature change within the drink in the flask.
Pros
It is built to endure the demands of everyday use.
Has an user-friendly and hygienic push button lid with pop-up straw
Has an integrated carry handle
It is made of BPA-free materials
Ha a 5-years limited warranty
Made of stainless steel
Retains cold drinks for 12 hours
Cons
Cannot be used with hot liquids
Takeya 51162 Actives Insulated Stainless Steel Water Bottle
Takeya 51162 is a good bottle; one that will keep your water or drink cool for up to 24 hours and your hot beverage will remain so for 12 hours. Your child can carry this bottle whenever they can without worrying about it getting destroyed. It is made from pro food-grade 18/8 stainless steel hence you never have to worry about BPA-free.
As an insulated bottle, it features a sweat-free double-wall and the mouth at the top is wide to allow easy cleaning.
Pros
Has a protective silicone bumper which decreases chances of it getting dents and dings,
The lid is leak-proof and the insulated spout lid allows you to drink without removing the lid.
Has a lid with a handle that is practically indestructible and it will give you comfort whenever you are carrying it.
Has an additional protective bumper at the bottom to give extra durability
Rust resistant
Does not transfer any taste
theflow Insulated Water Bottle
This is a large bottle that is recommended for older kids. theflow bottle is good if you want to have an insulated, large bottle with a straw. As one of the best water flask, it will maintain the ice cubes in your water for long. On the other hand, hot drinks will remains so for up to 12 hours.
theflow Insulated Water Bottle comes with three different lids that are safe and leakage proof. You can always exchange these lids depending on the drink you have. The three lids include
Straw lid that is able to prevent leaking whenever the bottle is likely to fall, shake or move
Carabiner lid can be fixed to your backpack or belt.
Ergonomic flip lid that allows you to instantly drink your water with a simple flip.
Pros
Can carry a range of drinks from water, juice, energy drink, or any other drink regardless of whether it is cold or hot
Comes with 3 leak-proof lids to suit your needs
It is rust free since it made of stainless steel
BPA free
The bottle does not sweat
Give you more options to choose your favorite colors
Cons
The lid is not sweat-free
Sharpro Fruit Infuser Water Bottle
sharpro water bottle can be described as one of the best water bottles that closely includes all the features you need in a water bottle. To be precise it has an infusion basket that allows you to simply toss your preferred fruits or veggies so as to make your water more tasteful.  In addition, it has a useful thumb releasing flip top lid and non-slip grip
Pros
It is dishwasher safe
It is safe since it is BPA free and has been approved by FDA
Does not leak
Which water bottle is good for your kids?
To get the best the water bottle for your child consider the following
Age of child and material of the bottle
If your child is between 3-6 years you don't want them to walk with heavy and fragile water bottles. A heavy bottle could hurt their back, fragile bottle could cause injury if it breaks or falls on them. At this age look for a water bottle that is light, leakage free and one that is toxins free.
For young children decorated and colorful bottles could be more appealing. For mature kids the shape of the bottle is important as most of them want to have trendy items.
The size of the bottle should increase with the age of the child.  There is no need to buy a big capacity bottle when a child cannot even drink half of the water in it.
A durable bottle is often good for older children, this is because younger children often change their preference and what could be appealing today may not be a few months down the line.
Every type of bottle has its pros and cons so ensure you choose one clearly knowing what to expect from each.
Kids water bottles